---
The Institute of Bioengineering of Catalonia (IBEC), a Severo Ochoa Centre of Excellence, conducts interdisciplinary research at the frontiers of engineering and the life sciences.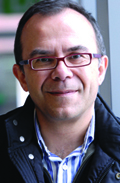 The institute, which was founded by the Generalitat de Catalunya, the University of Barcelona and the Universitat Politècnica de Catalunya, currently has 21 research groups and 250 researchers and staff from 20 different countries. They're carrying out research that combines fields such nanomedicine, biophysics, biotechnology, tissue engineering and information technology in the pursuit of applications for health.
Faster Future at IBEC
Faster Future (#IBECfasterfuture), launched in 2017 in time for Giving Tuesday, is IBEC's fundraising initiative. We're inviting people to help us accelerate scientific research by supporting projects that are at an advanced stage in tackling major challenges in health. Early diagnosis, new therapies based on regenerative medicine, better quality of life compatible with an ageing population, and technological advances to increase efficiency and make healthcare sustainable: these are some examples of areas where IBEC can contribute with its cutting-edge research to generate new technological advances.
Faster Future 2017: What is 'on-a-chip' technology?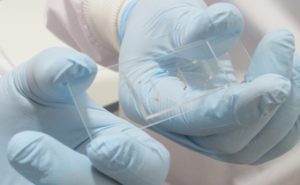 'On-a-chip' technology involves creating 3D devices that, by mimicking human tissue and the unique micro-environments found in the body, open new avenues towards our understanding of diseases. They act as 'models' for diseases that feature all the pathological processes that take place in the actual body, and can be used to test drugs or other treatments.
They also offer insights that can't easily be obtained with conventional animal studies, and may also yield results related to humans that animal models can't predict. In this way, they reduce the need to use animals in the lab.
What sort of 'on-a-chip' devices are being developed at IBEC?
As well as our Faster Future project for 2017, the 'muscle-on-a-chip' being developed by Dr. Javier Ramon, there are other IBEC groups focusing on 'on-a-chip' solutions for various health problems. IBEC researchers are exploring several other avenues such as integrated microfluidic organ-on-a-chip devices to study the physiology of specific organs and for drug screening. They also develop lab-on-a-chip devices for clinical diagnosis and food safety applications.
Some examples at IBEC are the first-ever functional human 'splenon-on-a-chip' capable of reproducing the function of the spleen, which is to filter red blood cells, and our models of the small intestinal epithelium, cardiac tissue, kidney, tumour, neuromuscular junction and bacterial biofilms.
We hope that this #GivingTuesday you can help us to further our research into on-a-chip solutions to tackle the devastating effects of myotonic muscular dystrophy 1.
Josep Samitier, Director of IBEC